An event unlike any other!
For one weekend only, we're bringing together the best of Duluth in one scenic location.
Enjoy hot beverages, local drinks, and exciting menus from New Scenic Cafe, DECC Catering, Yes Cheese, Love Creamery, and more. Delicious baked goods from TBSP Waffles and Duluth's Best Bread and piping hot beverages: coffee, cocoa and cider!
Craft beer will be available near the Yule Hall, plus themed cocktails at the bar made with Vikre spirits and other local favorites.
See live animals. Warm up at fire pits. Indoor open skate both days. The Duluth East Choralaires will be carol singing during the event Saturday.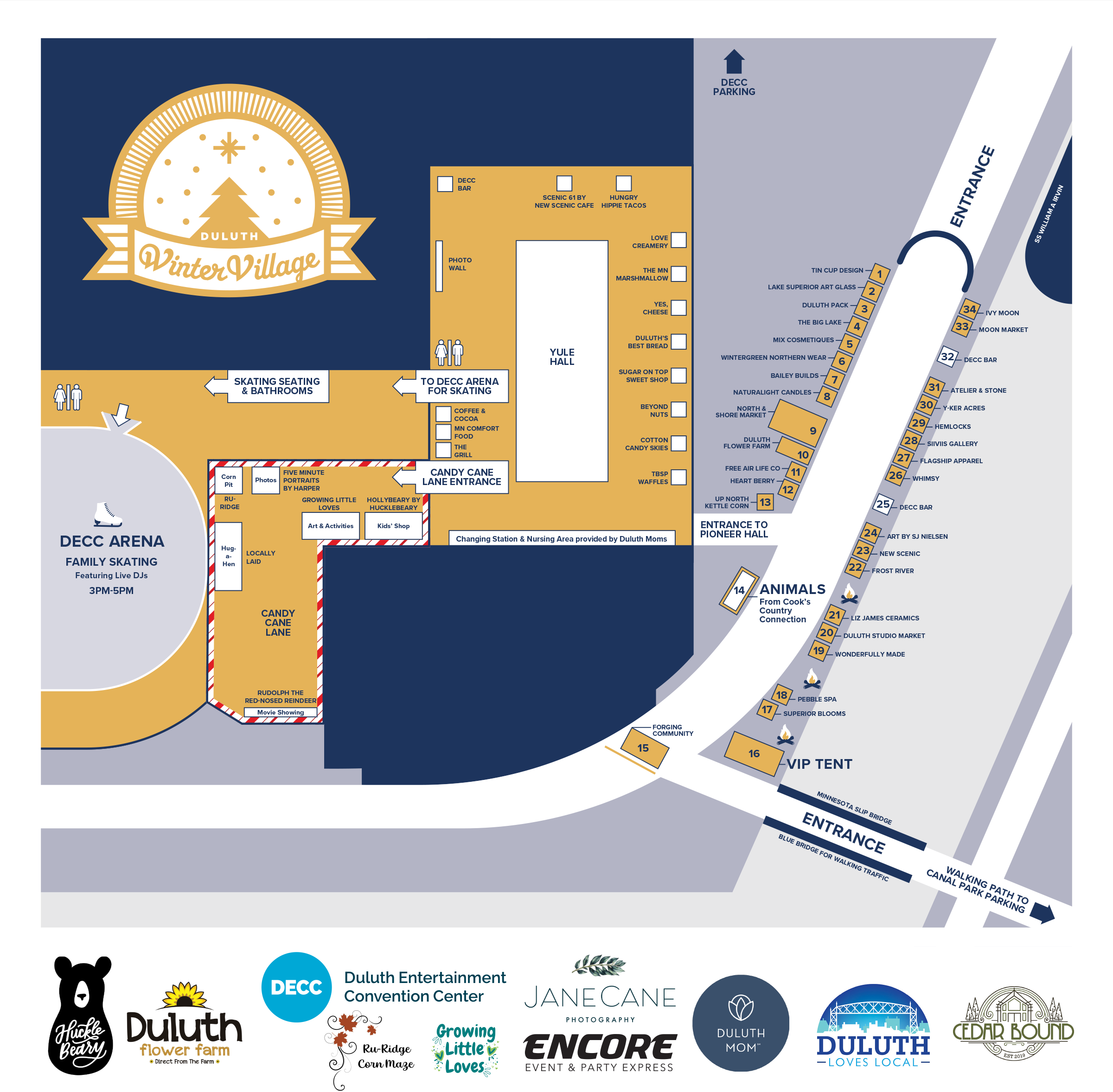 Your Favorite Local Businesses
Art by Sj Nielsen
Atelier & Stone
Bailey Builds
Duluth Flower Farm
Duluth Pack
Duluth Studio Market
Flagship Apparel
Forging Community
Free Air Life Co
Frost River
Heart Berry
Hemlocks
Ivy Moon
Lake Superior Art Glass
Liz James Ceramics
Mix Cosmetiques
Moon Market
Naturalight Candles
New Scenic
Pebble Spa
Siiviis Gallery
Superior Blooms
The Big Lake
Tin Cup Design
Whimsy
Wintergreen Northern Wear
Wonderfully Made
Y-ker Acres
Delicious Food & Drink
Beyond Nuts
Cotton Candy Skies
DECC Culinary Team
Duluth's Best Bread
Hungry Hippie Tacos
Love Creamery
Scenic 61 by New Scenic Cafe
Sugar on Top Sweet Shop
Tbsp. Waffles
The Minnesota Marshmallow
Up North Kettle Corn
Yes, Cheese
North and Shore Market
Burdock Ceramics
Cold Rain and Snow Jewelry
Darlin Handmades
Everyday Antonia Mae
Juniper Blue
Norshor Woodshop
North Country Crafts
Onkka Prints
Oxcart Broom and Woodworks
Shon Designs
Simply Born Designs
Sjofns Musings
Woodfire Candle
Plenty To See and Do
Activity area with Growing Little Loves
Duluth East Choralaires (on Saturday)
Five Minute Portraits by Harper (on Saturday)
Free skating with DJ 3-5pm both days
Hollybeary by Hucklebeary kids gift shop
Hug-a-hen with Locally Laid
Ru-Ridge Corn Pit
VIP tent with Cedar Bound